Garage Door Company
Back To Our Services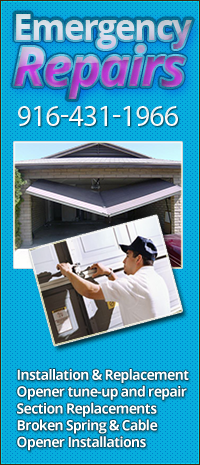 Let our skilled and experienced specialists provide garage door repair services based on precision and speed. Our company covers automatic systems of all types, ages and brands. From providing rusty panel repair to fixing broken tracks, springs and cables, we do it all. We are experts in the most advanced garage door openers and accessories as well as in traditional ones. Count on our emergency service for the fastest resolution of urgent issues. Among our core services, you will find overhead door installation and replacement. We set and adjust doors and openers perfectly and take care of every detail including the programming of the clickers. Our all-encompassing maintenance service includes everything from lubrication to opener testing. When necessary, parts are fixed or replaced for ensuring smooth and safe operation. Garage Door Repair in West Sacramento aims to be the best garage door company in the area by being:
The only insured Garage Door Company
A reliable certified company
A dependable emergency service company
A licensed company
The city's only bonded Garage Door Company
Most garage door companies will hire just about anyone and send them out to your home. Not us, at Garage Door Repair in West Sacramento. When you call our company, you can feel safe and secure knowing that you will only get the most experienced and licensed contractor sent out to take care of all your garage door problems. You never have to worry that you will get someone who does not know what they are doing – at Garage Door Repair in West Sacramento; we promise you that this will never happen.
When it comes to the type of services that we, at Garage Door Repair West Sacramento, provide, we can do it all:
Install your garage door
Repair your garage door
Repair and replace the opener
Repair and replace the remotes
Fix the springs
And so much more!
If you are having problems with your garage door, never fear because Garage Door Repair in West Sacramento will know how to fix it. That is our job and we take our job very seriously. Hence, if you are in an emergency situation, keep in mind that we are available at all times and days. Our technicians will rush immediately at your house and your problem will be fixed before you know it.